WELCOME TO SK QUALITY ROOFING
SK Quality Roofing is a leading provider of flat roof maintenance programs as well as residential and condominium roofing and roof repair in South Florida. Therefore, whether you are looking for repairs, a new roof, or simply energy saving options, SK Quality Roofing is the company to call.
We are proud to be a 2nd generation family owned and operated business that has been serving the area since 1982. With 3 decades of experience and proven methods we enjoy an excellent reputation with our clients, which has led to long-lasting business relationships both in the private and public sectors.
Our commitment to the area goes beyond providing top-quality solutions. Giving back to our community is a proud focus that guides us in our day-to-day operations. Consequently, SK looks forward to these opportunities to work with area organizations throughout the year. Most noteworthy is our participation with Habitat for Humanity, the Caring Kitchen, Breast Cancer walks, the Chamber of Commerce, and the Delray Beach 4th of July celebration, to name a few.
We are also proud to be Florida State Certified instructors offering continuing education credits for both contractors and property managers.
Located in Delray Beach, we serve Palm Beach and Broward Counties, and are fully licensed and insured. Please call us at (561)276-8040.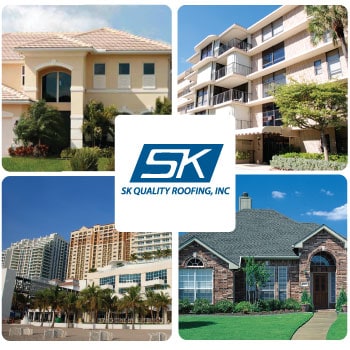 Latest Posts
[recent-posts]
---
ROOFING SOLUTIONS THAT WORK FOR YOU
Sustainable thinking is vital in this industry. Our goal is to keep materials out of landfills by extending the life of your roof double or even triple the length of time that you may have expected. As a result, this not only saves you money, but protects the environment, as well.
SK is a full service roofing company offering repairs, restoration, replacement, and maintenance programs. Our ten year warranty contract covers leaks and other benefits.
Our team of professionals and our proactive approach makes us uniquely qualified to serve your needs. We are a BBB "accredited" company with an A+ rating, a GAF master elite certified contractor specializing in solutions for high rise condominiums, residential properties, and businesses.
We are working at the top in standards of quality and service, impacting our community from generation to generation. If you have any questions, feel free to ASK SK.
To schedule an appointment for a FREE evaluation, call or email us.
Phone: 561-276-8040